Most Thomasville, GA drivers use their smartphones and other devices to remain connected and entertained while traveling through Crawfordville. Thanks to the GMC IntelliLink infotainment system in your GMC truck or SUV, you can take advantage of Bluetooth® connectivity to place calls hands-free, listen to your favorite songs, connect to essential apps, and more. This can be an incredibly useful feature during your daily travels, but what happens if your GMC IntelliLink system stops working? In most cases, you just need to reset the system.
In the guide below, Dale Earnhardt Jr Buick GMC provides the simple steps for how to reset GMC IntelliLink! If you have questions as you follow along, our seasoned GMC service techs are here to help.
---
---
What is GMC IntelliLink?
GMC IntelliLink is an infotainment system that was first introduced on the 2012 GMC Terrain SUV. Able to offer a seamless connection between your smartphone and your vehicle, IntelliLink has remained a principal feature in the standard suite of features offered across the GMC truck and SUV lineup.
In newer GMC models from 2019 and later, GMC IntelliLink has been renamed as the GMC Infotainment System. Though the system has a new name, it functions just the same as GMC IntelliLink and offers all of the GMC IntelliLink apps that drivers love, including Spotify, iHeartRadio, and even top media apps like the New York Times.
Check for GMC IntelliLink Updates
Before you move forward with resetting your entertainment system, we recommend checking for software updates. If you happened to miss a software update or a GMC IntelliLink Navigation upgrade, it could be the cause of any issues you may be experiencing.
Under the 'System' tab of your display screen, click through to 'Vehicle Software' and look for 'Updates'
Select 'Software Information' and look for 'System Update'
If there is a GMC IntelliLink update available, it will download. Once it's downloaded, you'll be prompted with on-screen steps to install it.
Steps to Resetting GMC IntelliLink
If you're experiencing issues with your entertainment system and there are no software updates available, you can get GMC IntelliLink support by calling GMC's assistance line at 1-800-462-8782. However, resetting the GMC IntelliLink system on your own is pretty simple! Here are the steps to follow:
Navigate to your GMC IntelliLink home screen and click on 'Settings'
Select 'Return to Factory Settings'
You'll be offered three options: Restore Vehicle Settings, Clear All Private Data, or Restore Radio Settings. For our purposes, select 'Restore Vehicle Settings'
When prompted to either Continue or Cancel, click 'Continue'
At this point, you can navigate back to the home screen and your system should be reset
Note: Before you restore GMC IntelliLink to factory settings, know that the personal settings you've enabled will be erased and you will be starting with a fresh, unprogrammed entertainment system. If there are GMC IntelliLink apps you've downloaded, they may be removed from your infotainment screen.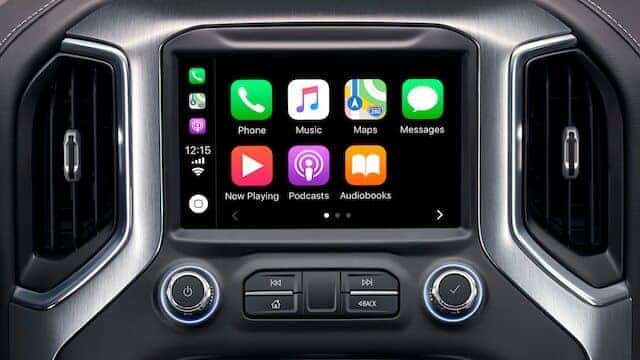 Contact Us With Your GMC Tech Questions
If you are still having issues with your GMC IntelliLink system, do not hesitate to contact Dale Earnhardt Jr Buick GMC for GMC IntelliLink support. Our factory-trained technicians will answer any questions you have and get your IntelliLink reset and working again! Your owner's manual is another great source for information about IntelliLink, but we're also here to answer any questions that you may have about GMC technology.